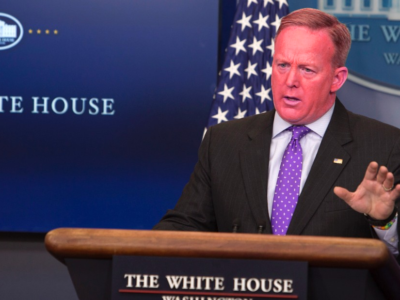 White House Press Secretary Sean Spicer has had an eventful month since stepping into his role. With his heated temper and mercurial personality, Spicer has attacked the press for biased journalism and unfair attacks toward President Trump, most famously being his account of the crowd size during the inauguration. While Spicer has claimed to more relaxed as Press Secretary, he has announced to the press that his complexion has been red for a month and he has no idea what to do about it.
While some have suggested that his complexion issues could be due to his hostile attitude toward his job and the people around him, Spicer said that he's as happy as he's ever been and anger is not a problem.
"I'M HAPPY. CAN'T YOU TELL. I'VE NEVER BEEN HAPPIER IN MY LIFE. HAPPY AS A CLAM. HAPPY!" Spicer shouted to reporters. "IT'S YOU FAKE NEWS PEOPLE TWISTING MY WORDS INTO THINKING I HAVE AN ANGER PROBLEM. WELL I DON'T. I'M HAPPY."
Spicer reiterated to the crowd of reporters that he in fact does not know what's wrong with his face, and has tried every remedy possible for fixing it.
"I CAN'T TELL IF IT'S A REALLY BAD SUNBURN, SOME VIRUS OR A PARASITE IN MY BODY THAT TURNS MY FACE RED," Spicer again shouted. "DOES ANYBODY HERE KNOW OF ANY CONDITION AND COULD DIRECT ME TO ANY SORT OF CREAM OR PILL TO FIX ME."
After getting several suggestion from numerous helpful reporters, Spicer expressed gratitude towards the crowd, implying they may not be as bad as he once thought.
"YOU KNOW, YOU PEOPLE AREN'T THAT BAD, I'VE BEEN SO RUDE TO YOU AND YOU STILL GAVE ME ALL THIS HOSPITALITY. HOPEFULLY ALL THIS REDNESS WILL GO AWAY SOON," shouted Spicer but with a more polite tone. "OF COURSE, IF NONE OF THIS WORKS, I'LL REVOKE ALL OF YOUR PRESS CREDENTIALS, YOU FAKE JOURNALISTS."