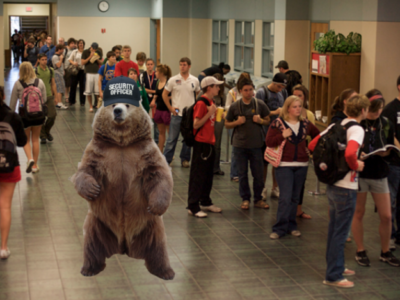 A recent attempt by the University of Nebraska-Lincoln to cut costs has arguably created more problems than it's solved.
"The Union security bears were implemented to reduce safety costs for the university," Chancellor Ronnie Green told The DailyER, "but many people, students and faculty alike, have come forward with concerns and complaints about the new staff."
The bears sport dark blue harnesses with "UNL SECURITY" emblazoned across both sides. They have been trained to patrol the Union and go up and down stairs, and the regular human security guards have been replaced with a single handler that commands the bears during the day.
Gina Luellen, a member of the Union custodial staff, was tasked with managing the bears at night. She says the two male 1,000-pound grizzlies straight from Kodiak Island are more dangerous and difficult than her pay raise compensates for.
"The university pretty much forced this responsibility on me since I'm the night manager," Luellen said. "They upped my pay, but frankly it's not nearly enough when you look at the risk involved with these big fellas. That, and I have zero experience with handling bears."
The bears have thus far bitten three students since the beginning of the Fall 2017 semester, but a newly-added release form in UNL's Student Contract prevents students from suing the school for bear attacks. On the plus side, exactly zero disturbances have been reported since the bears' implementation.
One of the students bitten by a security bear had some strong words for the university. "What was UNL thinking? My right tricep was separated from my humerus by one of those monsters, all for the school to save a few bucks," junior engineering student Daniel Smith said. "Sure I got free treatment from the University Health Center, but they're not an actual hospital now, are they?"
At the time of publication, the bears continued to patrol the Union and its students.