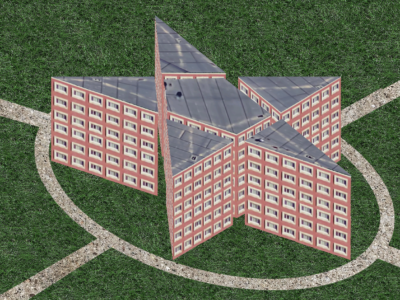 Pagans and mystics, rejoice!
After many months of deliberation, the University has finally agreed upon a shape for Selleck's replacement… a classic pentagram!
The decision of a pentagram for the shape of the new dorm building was not an easy one. Countless other shape proposals were sorted through and ultimately rejected, including a gigantic sphere, Ronnie Green's silhouette and the outline of Nebraska's state bird, the Western Meadowlark. The pentagram design was ultimately picked for its practicality and subtle architectural beauty, as well as for its attempt to show support to a growing subculture around campus: paganism.
Since the announcement, pagans around campus have been going "batty" for the new dorm design. Dressed in baggy black cargo pants and an Insane Clown Posse t-shirt, president of UNL Pagan Life and devoted Wiccan, Emerald Darkness, expressed her elation in response to the news.
"Pagans have a long history of being treated as second-class citizens at UNL," Darkness said. "This is a wonderful step in the right direction to ending misconceptions about paganism. It's also nice to finally have some occult symbolism around campus."
The Selleck Quadrangle will be bulldozed this summer and construction on the Selleck Pentagram will begin immediately. The dorm portion of the Selleck Pentagram will be composed of five different wings in the points of the pentagram, while the new Selleck Die-ning Hall will be placed in the center of the pentagram.
The dorm building will have six floors and a cellar located beneath it with easy access to the city of Lincoln's underground catacomb system. The building will also feature a sacrificial altar and a room for séances above the die-ning hall.