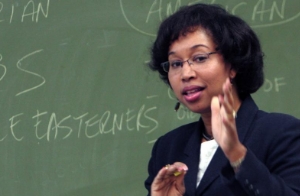 UNL French professor Rachel Avra does not normally talk to her students after she dismisses them for the day, but two weeks ago she did just that.
"I will have your exams graded by Friday," Avra told her students as they packed up to leave the CBA classroom.
Students stopped dead in their tracks, one dropping his textbook on the tiled floor. Some slowly slumped back into their seats. The room was silent for minutes until a student regained his situational awareness, slowly leaving the building with his belongings.
"It was almost as if she told us the football team won the Big Ten championship, which would be really awesome because we didn't even make the game," sophomore international business major Christian Jeffries said.
"Truly a great surprise for all of us, a blessing really."
According to multiple students, the normally-quiet Avra is known to take weeks at a time to grade exams and give them back to students, and now she was spitting this unbelievable turn of events  on the week of the assessment. A popular belief among students is the professor, now in her third year at UNL, made the ridiculous statement with intentions of increasing her ratings on course evaluations.
Freshman film & new media major Breanne Lucy told The Dailyer she did not have a problem with the attempted bribery until Avra failed to follow through with her promises.
"I was in disbelief when she said it," said Lucy, clearly still befuddled with the situation. "But when you say something like that and don't follow through with it, I don't know. They were just harsh words."
Jeffries agrees with his classmate.
"I believe everyone should have a chance, no matter their track record," he said. "But it is just such a thorough mindfuck when someone says they'll do something then don't. Like why would you do that?"
Avra confirmed she has not yet looked at the exams but declined to comment further on the matter.