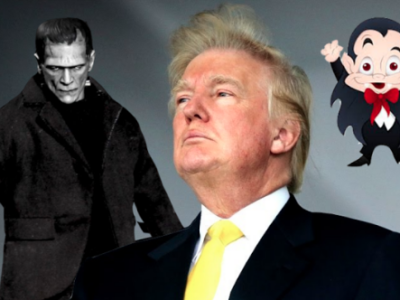 In the nearly 10 months of his presidency, Donald Trump has done some scary things on many non-Halloween days. However, his newest controversy might be the scariest and strangest of all.
At 9:34 this morning, Trump made an announcement saying that effective immediately, the national anthem of the United States will no longer be "The Star-Spangled Banner" and instead will be the novelty, Halloween-themed song "Monster Mash."
Trump made the decision to get into the holiday spirit, and also because he felt the national anthem needed an update after 400-plus years of the Francis Scott Key classic holding the title.
"The old national anthem was so stuffy and bland, it's just a poem set to a boring nursing rhyme, you couldn't get a more complicated rhyming sequence," Trump blabbered. "The 'Monster Mash" is one of the greatest holiday songs of all time, celebrating the festive nature of Halloween for everyone I want in this country.
The national anthem has become a controversy of sorts, with many athletes, most notably Colin Kaepernick, protesting the anthem to draw attention to racial injustice, inequality and/or the current administration itself.
Trump insists, however, that this has nothing to do with the recent protests.
"Those pathetic, gutless cowards that disguise themselves as professional athletes have nothing to do with my decision," Trump said. "This decision is based purely on the greatness of the "Monster Mash." Let's see those so-called 'inspirations' on the field protest a song as great as this."
Many reporters in the room correctly pointed out that making "Monster Mash" the national anthem because of festive reasons only works during the month of October.
Trump, as always, had some sort of response to these criticisms.
"The "Monster Mash" is not just a Halloween song, it is a narrative of the struggles our country has gone through and how we have persevered," Trump babbled, mystifying the crowd. "Besides, if that doesn't work, I'll just change the anthem to correspond with the holiday of the time."
Reporters were quick to note the hypocrisy in complaining about athletes protesting while Trump changes the original anthem, to which he just shrugged.