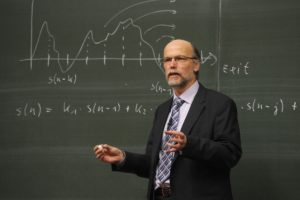 Veteran stand-up comedian Miles Reinhardt is hitting the road this fall, bringing his unique brand of humor to various lecture halls across the University of Nebraska-Lincoln campus.
The tour, which began August 22, will run for 15 weeks and make stops at  lecture halls in both Avery and Oldfather halls, two buildings that serve UNL's mathematics department.
Reinhardt said he hopes to entertain audiences with a newly refined version of the comedic material which he's been using on similar tours for the past 18 years.
"I've been working all summer to make these jokes better than ever," Reinhardt said, whose unusual style incorporates college-level math formulas along with his dry, sarcastic humor. "When they hear the crack about my wife, or the one about Euclid's algorithm… oh, man."
While Reinhardt was enthusiastic about the tour, his early shows have received a mostly negative response.
"I think Reinhardt thinks he's a lot funnier than he actually is," said Michael Kilgore, a sophomore chemistry major at UNL. "I just wanted to learn calculus, not listen to a bunch of groan-worthy jokes about his last vacation."
"He's just not that funny," agreed junior microbiology major Sarah Hewitt. "He even tried putting some Internet memes in his last PowerPoint, but he used them all wrong."
One factor in the comic's lukewarm reception could be the expensive ticket prices, which sources reported were over $1000 (although financial assistance was available).
"Yeah, but it's an all-access pass," Reinhardt explained when asked about the prices. "You buy one ticket, you get to come to every show."
"I'd like to see Louis C.K. offer a deal like that," he added.
Despite the criticism, the comedian was undeterred. Reinhardt told The DailyER he's planning on recording a comedy special, which will be released on the Internet streaming site Blackboard.