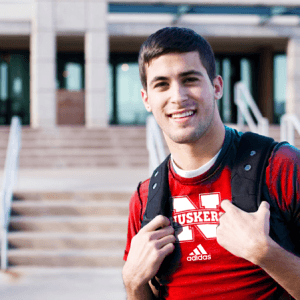 With a new school year underway, students everywhere are looking to make a strong first impression on their fellow classmates. One local freshman's bold fashion choice has everyone talking.
Brian Patterson, a chemistry major at the University of Nebraska-Lincoln, turned heads across campus Friday by wearing a "Huskers" T-shirt. Just moments after stepping out of Abel Residence Hall, Patterson found himself showered with compliments, high fives, and smiles from nearby students and faculty.
The shirt was reportedly red, with the word "HUSKERS" printed on it, along with a block "N" and an Adidas logo. Patterson explained that the shirt refers to UNL's various athletic teams.
"At first, I thought it might be too obscure," Patterson said. "But after about 10 people said 'Nice shirt, man,' I could tell they were getting the reference."
Students reported that the shirt made Patterson seem cooler and more likeable, and informed them of his interest in university-sanctioned sporting events.
"When you come to a new school, people have so many different interests and hobbies, so it was great to find someone else who likes the Huskers," said freshman business major Abby Lawson.
"It made me want to get to know Brian better," Lawson added, "because if we both like the Huskers, we probably have some other things in common too."
Patterson said he was simply trying to do something different, and had no idea the shirt would be so well received.
"I just wanted to mix it up, and wear something people don't see every day," he explained.
While it's too early to say if Patterson's groundbreaking garment will spark a new fashion trend across campus, multiple students expressed interest in obtaining a Husker shirt of their own.
"I'd love to get a shirt like Brian's, but I bet they're pretty hard to find, " Lawson said. "If only there was somewhere in Lincoln that sold them."