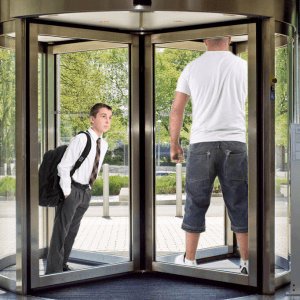 As the days grow colder, students at the University of Nebraska-Lincoln have been encouraged to use the revolving doors at the Union in order to save energy. However, many students appear to be apprehensive of the doors. When asked to explain, sophomore journalism major Amanda Byer explained her negative experience with the doors and why she will never use them again.
"It was just an ordinary day for me," Byer said. "I was walking into the union for a caramel macchiato, when all of the sudden I was trapped. I couldn't leave the door!"
On November 11, surveillance footage showed a large, strong man was entering the revolving doors at roughly the same time as Byer. He proceeded to push the door in a circle, instead of walking through the exit. Byer was trapped behind him in a seemingly endless struggle. She then recounted the traumatic experience as she dissolved into tears.
"The doors kept moving faster and faster. I was trapped! There was nothing I could do but run," she said. "I was so dizzy. Why would he do this?"
Students at UNL were still shaken by the news at press time.
"That's it," said small, weak DailyER writer Jack Jackson, "I don't care how much energy it saves. I'll never use those doors again. What if the same thing happened to me? UNL's campus is filled with large, strong men! I've seen them at the rec!"
While not all large, strong men are revolving door terrorists, behavioral scientists reported that the possibility of them trapping you, a small, scrawny student, in a revolving door is high, and Chancellor Harvey Perlman warns students to enter revolving doors with care.
"When you enter revolving doors, being trapped is a risk you have to take," Perlman said over a lunch of Subway pizza express and Pepsi, "My hope for all UNL students is that they free themselves from the doors as quickly as possible. We do not plan to remove the energy-efficient doors."