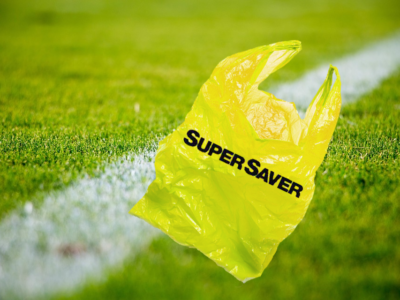 Husker football fans were enraged during Saturday's Nebraska game against Northwestern, when yet another yellow object landed on the turf at Memorial Stadium.
In the third quarter, a stray Super Saver bag caught in the wind made its way onto the football field at Memorial Stadium. Refs spotted the yellow bag and whistled the play dead. After minutes of discussion, the officiating crew decided to call a targeting penalty on Nebraska, irking fans and coaching staff.
Local Super Saver store owner Wyatt Matters called the incident a "complete disaster" for the Super Saver brand. Matters stated that he was disgusted that a Husker fan tainted the great Super Saver brand image by violating Memorial Stadium's clear bag policy set in place at the beginning of the season.
"The refs must be taking home a nice paycheck," exclaimed longtime Husker fan Allen Bones. "How on God's Green Earth could there have been a targeting penalty on a field goal attempt?"
Head referee Robert Rogers said in a statement, "It really did look like a penalty flag. I blew the play dead and talked it over with the crew. No one remembered throwing a flag, but at this point in our careers, it really just becomes muscle memory to throw a flag." Rogers said it was a gut instinct to call targeting on Nebraska, which ended up being the final decision.
The Big Ten Conference announced there is no conclusive evidence that the referees made the wrong call, so there will be no suspensions imposed.
Nebraska's athletic department announced that it will be taking extra procedures to prevent anything like this from happening again. Nets will be built around the field at Memorial Stadium to prevent bags and other objects from flying onto the field during football games.