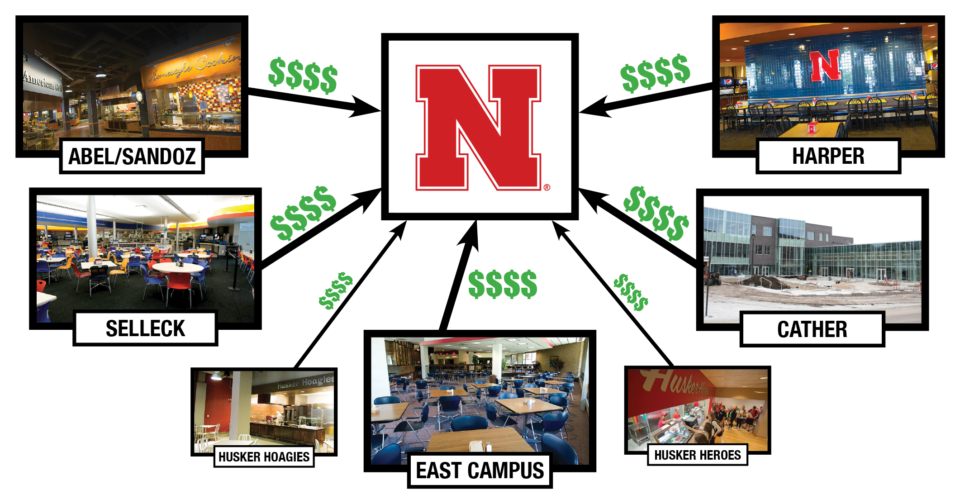 A DAILYER EXCLUSIVE REPORT
When students at the University of Nebraska-Lincoln eat at the various dining halls located across campus, they probably think they're supporting a vibrant food service economy. But that couldn't be further from the truth.
Following a months-long investigation, The DailyER has obtained decades of financial records revealing that all five dining halls are fully owned and operated by UNL. This stunning discovery has shattered the common perception among students that each dining hall is its own distinct brand.
"This is really a shock to me," said sophomore microbiology major Sarah Henson upon reading the report. "I always thought I had choices as a consumer, but I sure was wrong."
"Last year, I was unsatisfied with the quality of Harper's pasta, so I took my business to Selleck, thinking I could vote with my dollars," said junior broadcasting major Wyatt Huffman. "Everything I know is a lie."
Furthermore, records indicate that the monopolization of campus food options even extends to the various residence hall C-Stores, as well as "Grab-N-Go" choices such as Husker Heroes and Husker Hoagies.
"Now that you mention it, I always did have my suspicions about Husker Heroes and Husker Hoagies," Henson admitted. "But I assumed the 'Husker' thing was just a coincidence."
UNL refused to comment on the report, or on the allegations that the university has been using the monopoly to systematically increase dining prices for years.
"This is just another example of a failure of capitalism," explained UNL economics professor Dr. Helen Merritt. "By forcing out competition, the university has not only artificially inflated prices, but also limited innovation in the campus dining sector. We all love Mini Pizza Mondays, but with a competing dining hall, we could have had Mini Taco Tuesdays too!"
"That's why I'm calling on the United States Justice Department to intervene and break up this dining giant immediately," she added.
In the wake of these revelations, students have found themselves questioning which of their other on-campus choices could be just an illusion.
"Does this mean that when I take classes with two different professors, my tuition money still goes to the same place?" wondered sophomore English major Timothy Rios. "This changes everything."
With so many questions now swirling about collusion on campus, The DailyER would like to assure its readers that it remains committed to journalistic independence by being entirely unprofitable.
At press time, The DailyER has been looking into a bombshell allegation that claims the University of Nebraska-Lincoln and University of Nebraska-Omaha could be operating under the same umbrella.