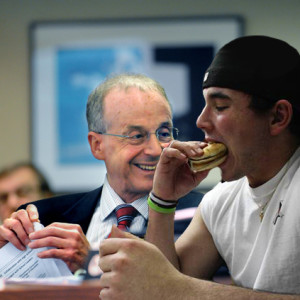 Josh Jennings, better known to his friends as "Big J," has been eating massive quantities of food in buffet-style environments for years. Now, his talents have finally paid off.
Jennings, a senior at Lincoln Northeast High School, confirmed Wednesday that he has accepted a full-ride dining hall scholarship to the University of Nebraska-Lincoln.
"It's a dream come true for me," Jennings reported. "I had some offers from other schools, but it's always been my goal to eat for the Huskers."
UNL Dining Services manager Greg Porterfield said his staff had several high school eaters on their radar, but after making a recruiting trip to Lincoln Northeast's cafeteria, he knew they'd found their man.
"When Josh sat down with four slices of pizza, two Muchos Nachos, five cookies and an ice cream sandwich, we were impressed," Porterfield said. "But when he finished it all and went back for seconds, we offered him the scholarship on the spot."
"That's just what Big J does, man," said Jennings' friend Mike Lantz. "Last week at the Chinese buffet, he did seven plates of sweet and sour chicken."
Jennings said he was sold on UNL after making an official visit to Selleck Dining Hall.
"When I walked through those doors and saw all that food, I was blown away," he said. "I know I'll need to step up my game to eat at a college level, but I'm excited for the challenge."
UNL dining staff is confident Jennings will make the transition.
"We know Josh is a hard worker, and he's committed to getting better and eating bigger every day," Porterfield said. "With this much potential, Josh definitely has what it takes to be a star eater at the next level."
According to Rivals.com, Jennings is one of three four-star dining prospects signed by UNL in recent months, making the school's 2016 recruiting class one of the best in the nation.
"I'm just so excited about the upcoming year," said UNL dining employee Diana Iverson. "We've got some kids who can really eat."