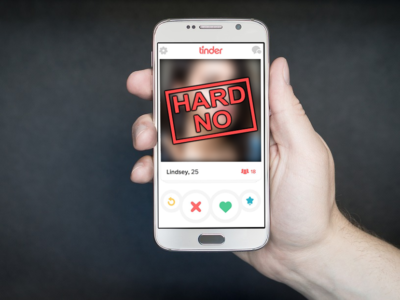 Facing charges that the dating app doesn't allow its users to debase themselves and others enough, Tinder announced this week its plans to roll out a Hard No feature in its app, similar to its Super Like feature.
Similar to the Super Like, users who receive a Hard No on their profile – sent by swiping the screen toward the bottom – will be notified that an anonymous profile is particularly not interested in seeing them. The user of a Hard No will have the option to leave a short message alongside their notification if they wish.
Unpaid Tinder users will have access to one Hard No per day, while premium subscribers will be able to tell off five unwitting, lonely souls every day.
Tinder founder Sean Rad said this was a feature he had envisioned from the beginning and was years in the making.
"No matter what field we're talking about, receiving constructive criticism is good for improvement," Rad said the panel where the app's new feature was debuted. "You don't get any feedback with anonymous left swipes."
Though the Super Like feature was met with little fanfare, Rad's new plan has been met with a great deal of criticism.
"Seems to me like an excuse to not own up to bullying people online," said junior biology major Jon Hilton, who hasn't gotten a match in two months.
Hilton clarified that he doesn't care about his drought of matches because he explained that he uses the app – explicitly marketed as a dating app – just to people-watch online.
While many consider most of Hilton's warnings fair, most of the app's users who plan on using the new feature see themselves using it in the vein Rad imagined it.
"It's about time someone can tell that weirdo in stats class why nobody's into him," said sophomore chemistry major Sarah Brown. "Probably about time to get some more shirts in your wardrobe besides band and Husker T-shirts."