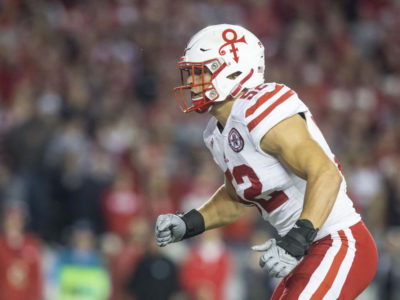 As a sign of goodwill towards the Minnesota Golden Gophers, the Huskers have announced that during their game this Saturday that they will change their iconic N emblem on their helmets to the symbol Prince used to refer to himself for a duration of his career.
Prince, who died last April, was an inspiration to the entire country and especially the state of Minnesota, where he was born and raised.
Honoring Prince may not seem like a clear choice, but as coach Mike Riley explained, the impact he made on our lives and Minnesota mandate changing the team's entire brand.
"The Gophers not only lost a citizen and friend, but also a piece of their identity. It's only right that we honor him the right way, " Riley explained. "Plus, I also got lucky in the back of a car when 'Purple Rain' was playing in the background–it had a really big impact on my life."
The decision may seem sudden and drastic, but many of the players are in favor of the iconic symbol on their helmets.
"I didn't come to Nebraska because of logos and font details. I came because they offered me a scholarship," DT Carlos Davis said. "But Prince is cool, man. He was able to change his name to a symbol."
"I didn't know much about him, but he had a song called 'Little Red Corvette,' which is obviously about the Huskers," TE Sam Cotton said. "He will be missed."
Minnesota head coach Tracy Claeys is grateful for the Huskers' tribute to their fallen idol, especially for dealing with the troubling legal issues that come with borrowing a popular symbol.
"We here in Gopher country still miss Prince to this day, and what the Huskers are doing is truly the greatest honor," Claeys said. "It's incredibly generous considering the trademark fees they'll pay to use the iconic symbol. It will cost billions."
Chancellor Green says funds will come from donors, as per use.