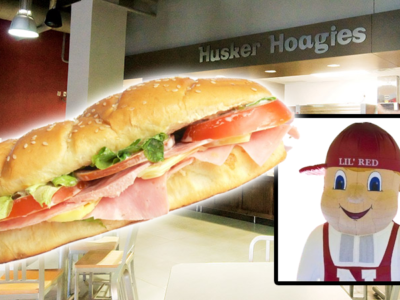 Huskers everywhere are turning red—not with school spirit, but with rage.
An annual health code survey revealed that traces of the mascot's remains were found in Husker Hoagie meat. Upon further inspection, the remains were reported to be the last of the beloved retired 2015-2016 model of Lil' Red.
Retired Lil' Red models are normally tucked away for safekeeping in the basement of Oldfather Hall, but sources say that UNL Dining Services somehow intercepted this Lil' Red edition before he could be placed in his final resting spot.
A former employee of UNL Dining Services spilled the juicy details of this horrific discovery to the DailyER.
"Costs were getting pretty high and Dining Services was having a hard time staying within budget," said the anonymous UNL employee. "They were looking for a way to keep costs down, and someone suggested the fallen Lil' Reds that weren't being put to use. Basically, someone from Dining Services found out where 2015-2016 Lil' Red was being kept, stole his body, and ground him up."
Red's ground remains were found in both the meatballs and salami Husker Hoagies uses on their popular hoagie sandwiches and wraps.
The Lancaster County Health Department is asking those who ate either of these meat products in the last month to remain calm. They don't yet believe there's any health risk posed by eating the remains but realize that their consumption could cause mental distress.
Until further notice, Husker Hoagies will remain closed and meat and sandwich needs will have to be satisfied through other outlets.