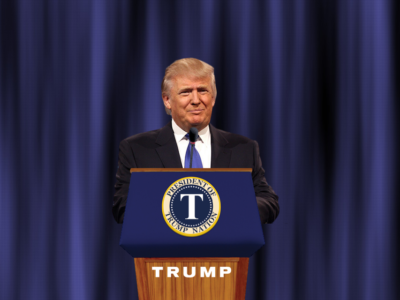 Donald Trump may have won the United States presidential election, but that hasn't stopped him from declaring himself president—of his own government.
Immediately following his victory over Democratic nominee Hillary Clinton on Tuesday, Trump staged a press conference at Trump Tower in New York to announce his latest business venture: a Trump-branded government known as Trump Nation.
"I humbly and gratefully accept my appointment to be your next president of Trump Nation," he proclaimed in front of a cheering crowd.
As president, the business mogul said he will govern from a gold-plated White House replica bearing the name "TRUMP," set to be constructed on the top of Trump Tower in the coming weeks.
To gain citizenship to Trump Nation, Trump explained that people will simply have to pay a $19.95 monthly subscription fee. Upon subscribing, citizens will be given a red baseball cap which they are required to wear at all times.
"Look, folks, this country is a mess," he said. "Our new government will be so great, believe me, it will be so great that you will never have to listen to that nasty woman ever again."
Of the improvements over the United States government Trump cited a streamlined legislative process, in which any tweet sent from his @realDonaldTrump Twitter account will instantly become law. Trump promised that anyone violating the nation's laws would be subjected to harsh lawsuits.
Joining Trump onstage was his new cabinet members, including TV host Sean Hannity, as well as members of Trump's family. This included his 10-year-old son, Barron, who will serve as the head of cybersecurity.
"He is so good with these computers, it's unbelievable," Trump said.
Trump's running mate, Governor Mike Pence (R-IN), was unaware of these plans. When reached for comment, Pence seemed confused and began talking about ISIS.
While some analysts noted that the new nation would not be an officially recognized sovereign state, but a business operating under United States law, Trump assured his supporters that the criticisms were merely attacks by the "rigged" media.
"Trump Nation is the real deal, believe me," he said. "I'm the president. I'm the president."