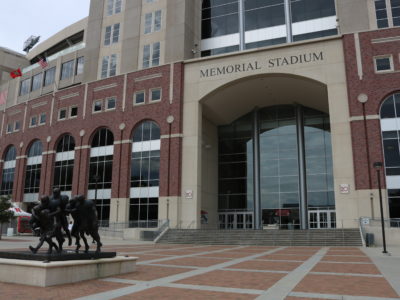 Football season is finally over for Nebraska (thank God). As the Huskers begin to rebuild for the 2018 season, The DailyER has begun to reflect back on the eventful year. Here are twelve takeaways from the less than ideal Nebraska football season:
1. Tanner Lee interception vs. Oregon, 1st quarter
This was the first of an unhealthy amount of interceptions on the season for the Huskers. This was also the first of a whopping four interceptions in the game for Lee, one shy of tying an NCAA record.
2. Tanner Lee pick six vs. Rutgers, 3rd quarter
There's no better way of starting off the second half than losing a yard of offense and then throwing a pick six to give Rutgers the lead. Nebraska escaped the homecoming match up against the Scarlet Knights with a win, but yikes.
3. Tanner Lee pick six vs. Wisconsin, 1st quarter
Ah, yes. Who could forget one of the best opening drives of the season? Coming off an incredible amount of energy from the 1997 National Championship team coming out in the tunnel walk, Lee wanted to help Wisconsin get a championship team of their own by throwing a pick six in the red zone. How thoughtful!
4. Devine Ozigbo fumble vs. Illinois, 3rd quarter
Butterfingers! In the first road conference game (and oddly the first Friday football game of the season) for Nebraska, running back Devine Ozigbo fumbled the ball on the possession right after Illinois scored a field goal. But thankfully, Illinois went backwards 14 yards and punted on the resulting drive. We all know how that REALLY could have turned out.
5. Tanner Lee pick six vs. Northern Illinois, 1st quarter
This one is going to hurt for a LONG time. Another great opening drive was lost when Lee threw a screen pass deep in the red zone that went 87 yards the opposite direction, giving NIU an early 7-0 lead.
6. Tanner Lee interception #4 vs. Oregon, 4th quarter
Here we go again! As the Huskers were down by 28 points at halftime, Mike Riley and company did not give up. Unfortunately, the Huskers gave up when Lee gave the ball away for the fourth time on the day, ending any chance at a historic comeback. Oh well, we covered the spread at least.
7. Aaron Williams pick six vs. Wisconsin, 3rd quarter
Chalk one up for the Huskers! Williams picked off Wisconsin quarterback Alex Hornibrook and returned it for a touchdown, tying up the game at 17. Unfortunately, these were the last points Nebraska would score this game and the last points Nebraska would score for four additional quarters (thanks, Urban Meyer).
8. Tanner Lee interception vs. Northwestern, 2nd quarter
One minute left in the half, down by three, you figure we've got a chance to tie this one up, right? Wishful thinking. What was an opportunity to tie or take the lead quickly turned into an opportunity for Northwestern to extend their lead after Lee slung a pick to the Wildcats defense. Thankfully their last-second field goal attempt missed the uprights (just wish the Texas field goal would have missed the uprights [yep, still salty]).
9. Patrick O'Brien interception vs. Ohio State, 4th quarter
In the game that all Husker fans would love to forget, backup quarterback Patrick O'Brien came in for clean-up duty in the fourth quarter as Nebraska trailed by 42 points. Unfortunately, any chance at shrinking the point differential disappeared when O'Brien threw an interception with 4 minutes remaining. At least it wasn't 62-3!
10. Stanley Morgan fumble vs. Wisconsin, 3rd quarter
Turnovers, anyone? Coming off a Wisconsin touchdown, Mike Riley and crew were looking to make an incredible comeback. Unfortunately, Morgan literally dropped the ball on that one. His fumble led to another Wisconsin touchdown, dooming the Huskers.
11. Marcus Newby pick six vs. Northwestern, 3rd quarter
Oh yeah, another one for the Huskers! Starting out the second half in style, Newby picked off Northwestern's Clayton Thorson and returned it 49 yards for a touchdown, putting Nebraska on top. Unfortunately, this was the last points Nebraska would score against the Wildcats, eventually falling in overtime. At least we had fun, right?
12. Tanner Lee pick six #2 vs. Northern Illinois, 1st quarter
Saving the best (or worst) for last! As if throwing one pick six in a game wasn't enough, Lee kept the party going by throwing another first quarter pick six, letting NIU take a 14-0 lead. It really takes a special kind of talent to lose to a team when you only give up one offensive touchdown.