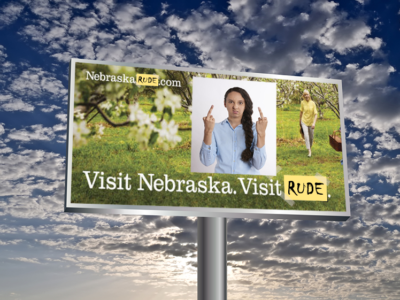 Espionage has been uncovered in the land of the good life. An undercover agent from the rival state of Iowa was recently outed through the discovery of classified information in the Des Moines capitol building. An unnamed secret agent from Nebraska was credited with the discovery of the damning information.
A low-level employee at the NIA (Nebraska Intelligence Agency) agreed to speak to The DailyER under anonymity about the case. "One of our best agents worked their way into Iowa's most secure computer network, where they found an email chain between high-ranking Iowa officials discussing a project called 'Nebraska Rude' along with a name associated with said project," the source said. "After some digging and reverse Google searching, we found something shocking."
What the NIA found was an organized underground effort to influence tourists' opinions of Nebraska as they passed through while traveling to more interesting states. This operation involved hiring actors to be rude toward travelers at rest stops, writing obscene graffiti in gas station bathrooms on a regular basis and littering along highways, with most of the offending activity occurring along I-80.
"It's kind of a dumb operation if you ask me," Maxwell native Eustace Horn said. "Those rude actors better be gettin' paid well, 'cause if they mess with the wrong traveler they'll get more than just a glare."
Horn believes the littering strategy is the worst part of the entire operation. "I understand they're trying to make us look bad, but if I find another damn Casey's pizza box in my crop line, I'm gonna write a strongly-worded letter to someone."