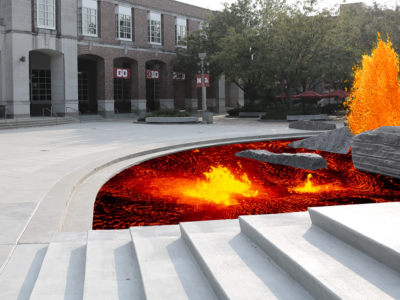 As the weather cools down this winter, things are about to heat up at the University of Nebraska-Lincoln. University officials announced on Tuesday that the Broyhill Fountain at the Nebraska Union will flow through the remainder of the winter months, but the normal flow of water will be replaced with molten lava.
"This is something that will have many benefits for the University," said UNL Chancellor Ronnie Green. "Not only will the fountain continue to be a staple of art on our campus by continuing to flow, but the molten lava will give off enough heat to keep students warm on their commute to class. It's a win-win situation."
University officials say the project will begin immediately and only take a couple of weeks to complete. Unfortunately, construction on the fountain will completely block off through traffic in front of the Union's north side. Estimates put a price tag of $5 million on the project to replace current pipes and to import the lava from the Haleakala volcano in Hawaii, which is expected to be paid off by an additional tuition hike of 50% in the 2019-2020 academic year.
Freshman biology major Blaise Porter spoke to The DailyER about the fountain announcement. "I think it's going to be cool to have the fountain running during the winter," said Porter. "My friends and I always like to hop across the rocks and pretend the water is lava. Well, now it really IS lava! How neat is that?"
Although the announcement to replace the water in the Union fountain has received mostly positive feedback, others have not been so optimistic about the change. "I can't believe it," said sophomore economics major Heather Kluber. "Why would anyone think it's a good idea to put lava out on the freaking fountain? That's got to be some form of a fire hazard."
Chancellor Green mentioned the safety risk during his Tuesday announcement. "Other Big Ten universities who already have lava fountains in place only see 21% of their student population suffer minor lava burns, while only 3% of their student population each year suffer severe or fatal lava burns. I don't think we will see any issues here."