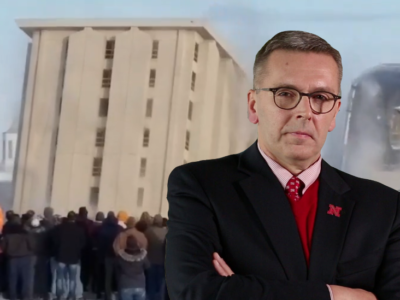 Calling the entire thing a total misunderstanding, Chancellor Ronnie Green told reporters on Tuesday that he has changed his mind about the University of Nebraska-Lincoln's Cather-Pound-CPN Dining demolition project.
"When we announced the demolition project two years ago, we had no idea that it would be such a lengthy process," said Green in a press conference. "I think it really is best to just rebuild and go back to how things used to be."
Green told reporters that, along with the time required to complete the demolition, the level of noise was also a contributing factor to the university's decision.
"The construction workers were just so loud," said Green. "I'd get to work at 8 A.M. and they seemed to have already been there for hours. I desperately searched for some sort of respite, but the noise was incessant."
Green said that the university plans to reopen the dining center and dorms by the fall of 2018, and he noted that, as a result, the new Cather Dining Center may be repurposed.
"Cather Dining has been doing a fine job serving UNL students this year, but there is no comparison to the CPN Dining of old," said Green. "I've been hearing endless requests to bring back CPN Dining, and I believe it would be a disservice to students and faculty to ignore their requests. The same goes for the dorms."
Upon being asked about the cost of reversing the demolition project, Green dismissed the numbers as a small price to pay for the happiness of UNL students and members of the Lincoln community.
"There comes a time when money is less important than the retention of some of Nebraska's most beautiful buildings," said Green. "It is my sincere hope that these architectural wonders will continue to serve our students for decades, even centuries, to come."
Artist's rendering of the Cather-Pound rebuilding project: