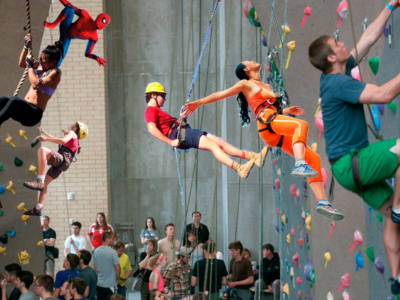 In an attempt to create more hype for the rock climbing walls at the Outdoor Adventure Center, prospective students touring the University of Nebraska-Lincoln will now be forced to climb a wall as a unified team.
"I think this a super cool initiative," said junior ethics major and wall climber, Tommy Moran. "I don't remember a single person I was with on my tour. I know if I'd have been forced to climb as a consolidated group with them, we'd be best buds today."
The friendship that Moran describes is the exact spark that the Outdoor Adventure Center is seeking to create. "No bond is stronger than one formed in a life or death situation atop a recreational rock climbing wall," said Director of Campus Recreation, Stan Campbell.
The required wall climbs will come to fruition March 1, 2018, but some current students have already voiced their opinions on the matter.
"Everyday I hear about free wall climbs on my way to class," complained freshman agronomy major and Harper resident, Amy Phillips. "Now I'm going to spend my spring dodging pile-ups of high schoolers from the backed-up tours on 14th street."
In the eyes of the University, however, the benefits of the group climb will heavily outweigh the downsides. Campus tour guides have predicted a 25% increase in smiles following a joke about walking backward. Some tours guides have even admitted they plan to beg parents to join in on the obligatory comradery of the wall.