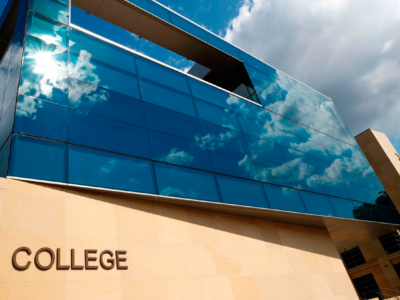 After a year of major change at the University of Nebraska-Lincoln, students and faculty can look for more change to come in 2018, more specifically with the new College of Business. University officials announced last week that the UNL College of Business will change its name to "College" starting in the 2018 Spring semester.
New permanent College of Business dean Kathy Farrell mentioned in an interview that the name change will bring a positive impact to UNL as a whole. "We think this is the best way to put our school on top," said College of Business dean Kathy Farrell. "Every parent dreams of their kid going to college someday. Now that dream can become a reality when students choose College at UNL. No more long-winded names "
Farrell and top university officials have received mostly positive feedback from the announcement. UNL Marketing professor Bob Bobbles expressed his excitement for the name change. "I'm so glad they decided to change the school's name again," said Bobbles. "Every meeting or conference I was at, it felt like such a mouthful to spit out 'College of Business Administration' every time I introduced myself. Even with 'College of Business,' it felt like a monologue. Now that we're just 'College,' I can stop talking and start doing business."
Not everyone reacted positively towards COB's new name. Sophomore sociology major Eric Justice said the name change is just adding to his frustration as a student. "Life is hard enough as a sociology student," said Justice. "Now whenever I go home and my grandparents ask me, 'how's College?' I gotta explain that I'm in the College of Arts and Sciences, not in College. I just wish people would stop changing things all the time."
Dean Farrell mentioned that the College of Business could see further reductions in the school's name in the future. Current proposals have the school changing names to "C" in 2019, *slight gasp* in 2020 and *eye blink* in 2021.