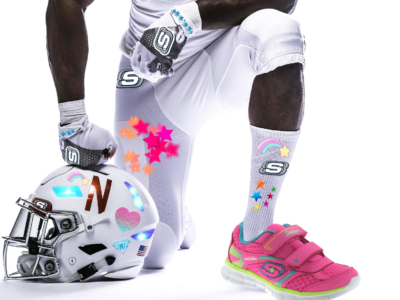 The familiar sight of an Adidas logo on the University of Nebraska-Lincoln campus will soon become obsolete.
It was announced Wednesday evening that the University is ending its long-time contract with sports apparel brand, Adidas, for a more modern and recognizable athletic brand, Skechers.
Soon, gone will be the days of seeing your favorite student-athlete zip past you on the sidewalk, leaving a blur of Adidas logos in their wake. Starting Fall 2018, all student-athletes will be sporting Skechers apparel from head to toe.
Skechers designers are currently working on designing brand new tracksuits exclusively for Husker athletes in scarlet and cream with Skechers' classic terry fabric, staying true to their motto of Stylish and Sweaty. The track suits will be complete with specially designed matching Skechers shoes. Leaked designs reveal that the shoes may have light up features, platform soles and absolutely no laces in sight. Skechers is going all velcro for UNL.
Sophomore track and field athlete Emma Williams says she's excited to see what the new Skechers contract will bring to the Huskers' athletic department.
"Adidas apparel was okay, but they were never able to offer the quality, durability and style that Skechers is known for," Williams said. "I'm looking forward to seeing how our athletes' performances will be improved by the superior quality of the Skechers brand."
Skechers will also completely redesign all varsity sports uniforms, including the football teams'. The updated uniforms will feature light-up helmets, classic shape-up style cleats and glitter details throughout.
Wearing what appeared to be a brand-new pair of Skechers Dynamight shoes for men in charcoal color, head football coach Mike Riley told The DailyER he is also enthusiastic about the Skechers contract.
"I'm excited to see how cute our boys will look out on the field in their redesigned uniforms," said Riley. "I would trust Skechers with my life."