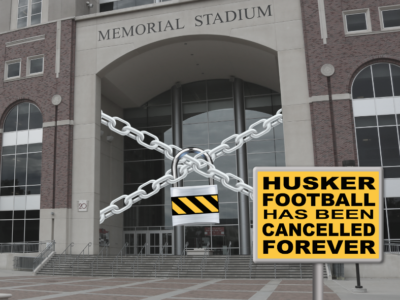 After a disappointing 2017 football season, UNL's athletic board has decided to permanently discontinue the Husker football program effective immediately.
After 127 years of fun, friendship and enough laughs to fill Memorial Stadium to the top, the boys in red are finally being laid to eternal rest.
The athletic board addressed the press on Saturday to discuss their major, difficult decision.
"The boys just weren't having fun anymore," said former athletic director Shawn Eichorst, who was momentarily rehired for the press conference. "Firing me wasn't enough to breathe some life back into the Husker football program. It was decided unanimously by the board, coaches and players that it's time to just wrap this whole thing up and move on."
Head coach Mike Riley also spoke to the press.
"It was nice while it lasted, but everything has to come to an end at some point," Riley said while tearing up, "I love the game, I love watching these big boys throw around the pigskin every Saturday just like everyone else, but the spark we once had is gone. We can't keep going like this."
Many fans are also worried about what will become of their beloved mascots, Lil' Red and Herbie Husker. But fear not, Huskers: Lil' Red and Herbie Husker will be respectfully euthanized, stuffed and put on display in the Abel/Sandoz dining hall so that they may be immortalized and viewed by students and fans for years to come.
Memorial Stadium is in good hands too. After construction is complete to put a roof on it, Memorial Stadium will be repurposed for use as yet another College of Business.
Many say this is an end of an era, but perhaps it's the beginning of a new one. An era where Husker softball will once again reign supreme.