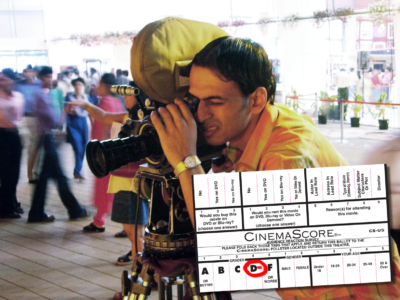 Sophomore Mark Dennis has always wanted to make movies. Ever since Dennis was a little kid, he religiously watched movies from his favorite directors Steven Spielberg, Stanley Kubrick and David Fincher over and over again in hopes of understanding their techniques and hopefully bringing their styles into his own work. When Dennis was accepted to UNL, he was able to realize his dream and start working on his craft.
Dennis's first film, "Dog-Walk" is described as an avant-garde, surrealist look at the relationship between a man and his dog. At only 7 minutes, Dennis is proud of his first work and hopes to perfect his craft.
Audiences, however, were less receptive to Dennis's work. As of 9:34 Wednesday morning, "Dog-Walk" received a D- from the website CinemaScore, a market research firm that conducts audiences to rate and review films based on letter scores.
Dennis was not only was shocked that his film was disliked, but also that so many people have given it a score on such a popular website.
"It's hard to hear critiques of your work, but it's impressive that Cinemascore is able to aggregate audience opinions for a film made for a class," Dennis said. "I mean, I only screened it for a couple of friends and professors, yet somehow Cinemascore is able to do their jobs."
CinemaScore did not respond to the DailyER's inquiry when reached for comment, but Dennis' Film Direction 230 professor, Dr. Edwin Manz, did. Manz is one of a select few who have seen the film, and, like the score given by the popular review site predicted, he was not impressed.
"Being a director these days is so tough," Manz explained. "So many different websites and algorithms can decide whether a film is good or not. But they were right on this one, it's not very good. I think I gave it a C. Believe me, avant-garde is just a fancy way of saying crap."