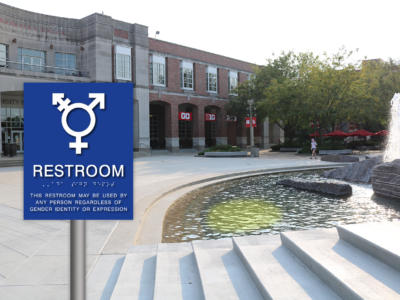 For transgender and gender non-conforming students at UNL, finding a suitable bathroom can often be a challenge. While there are gender inclusive restroom options, they're often in inconvenient locations, such as the cryptic "Transgender Bathtub," a bathroom that can only be accessed through the Star-Tran spirit realm bus, which stops just once an hour at a bus stop located in the sewer.
UNL administration was looking to finally solve this problem so that all students can focus on their academics, rather than wasting their time trying to find a restroom that fits their needs. After weeks of speculation and rumors, Ronnie Green finally announced earlier this week that the centrally located Broyhill fountain in front of the Union would be offered up as the newest gender inclusive bathroom.
"The L's, G's, B's, T's and Q's have spoken and we have responded," said Green while cutting the ceremonial opening ribbon. "You may now urinate in the Union fountain."
Short-haired individuals could be seen literally flocking to the Union fountain throughout the opening day of the bathroom. The DailyER stopped one rainbow-clad figure to discuss the event. Junior Dance and Film Studies double major Ash Wilson said they were "elated" by the news.
"The university has finally taken notice of the struggles of trans and gender non-conforming students and has made our lives just a little easier with this new, easily located gender inclusive restroom option," Williams said while squatting near the fountain to relieve themself.
Many have questioned what will happen during the winter when the fountain is drained, but Green addressed this problem at the opening ceremony, stating that, "Urine has a lower freezing point than water. If the fountain is being used frequently, as we expect, the warmth of the urine combined with the lower freezing point will eliminate the need for draining the fountain, allowing it to be enjoyed by students throughout the entirety of the year."