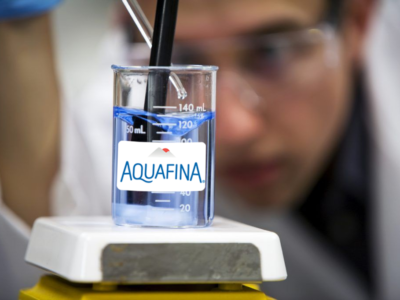 In an unprecedented move, the University of Nebraska-Lincoln announced Tuesday that its Water Science major would now be known as "Aquafina Science," after the bottled water brand owned by PepsiCo.
At a press conference, UNL chancellor Ronnie Green was joined by PepsiCo CEO Indra Nooyi to announce the change.
"Our exclusive partnership with Pepsi over the last 20 years has been one of this university's most valued assets," Green said. "Now, the Aquafina Science major is going to integrate Pepsi products into the UNL experience even further."
Under the move, laboratories in the Aquafina Science program will use only Aquafina water, and a new required course will teach students about Aquafina's superior filtration process.
The revamped program will be funded by a $15 million deal between the university and PepsiCo, part of which will go towards replacing the word "water" with "Aquafina" in all teaching materials.
"Through this deal, UNL is sending a message to the next generation of scientists that water is a thing of the past," Nooyi explained. "Aquafina is the next evolution of water."
The news was met with a mostly unenthusiastic response among current students and faculty, who questioned whether it was in the program's best interest.
"With so many water issues facing the world today, we need complex solutions that consider all aspects of water science," said professor Jonathan Schultz. "There's more to water than Aquafina, despite what Pepsi might want you to think."
"'Aquafina Science' just sounds stupid," agreed sophomore Ashley Wilson. "I didn't go to college for my degree to be a literal advertisement."
However, freshman Ben Morrison had a more positive reaction.
"I love Aquafina," Morrison said between gulps from a one-liter plastic bottle. "I drink it every day!"
Nooyi said she hopes to one day expand the program to include UNL's sinks, toilets and urinals, all featuring a prominently-displayed Aquafina sticker.
"Colleges need to realize that it's time to move on from water," she said. "Aquafina is the future and you need to drink it right now."