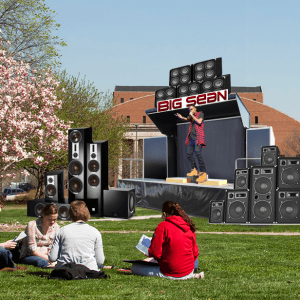 With their morning classes just minutes away, students walking across the University of Nebraska-Lincoln's city campus Monday expected to hear the familiar chimes of Mueller Tower. But what they actually heard was an earth-shaking hip-hop beat.
"I was just walking to class, wondering if the bell tower would play 'Harry Potter' or the Husker fight song today," reported sophomore business major Alexis Kendrick. "Suddenly, someone started blasting a rap song that was on the radio, like, four years ago."
"I thought it was coming from someone's car," she added.
But students who approached the Mueller Tower site quickly discovered that the music was actually a live performance from Detroit-based rapper Big Sean. As Sean performed his 2011 hit "Dance (A$$)," a small crowd of students gathered to watch.
"I thought it was pretty weird that UNL would schedule a concert at 8:20 on a Monday morning," recounted junior English major Michael Lombardi.
As the day wore on, however, students soon realized that Big Sean was performing a 10-minute concert every hour, playing the same song each time.
Mueller Tower, an iconic symbol of the university since 1949, was well-known for its musical bells which played between classes. But students who attended Monday's concerts reported that the tower was nowhere to be seen, and a permanent "Big Sean Pepsi Stage" had been constructed in its place.
Big Sean is best known among UNL students as the headlining act of the 2014 Spring Concert, which attracted a crowd of thousands to the Union greenspace. His return to campus Monday was less popular.
While a handful of self-described "Big Sean big fans" were seen dancing and cheering around the stage throughout the day, most students grew tired of the rapper's presence after just a few hours.
"The music is so loud that I can't even have a conversation between classes anymore," said sophomore biology major Julie Albertson. "I guess if it's supposed to help us get to class on time, then it's working, because as soon as I hear 'ass ass ass ass,' I run to my next class as fast as I can."
After Sean wrapped up his final gig of the day, The DailyER caught up with the rapper on his way to grab a runza and asked him about this new phase in his career.
"I'm going to be doing this full-time now," Sean explained. "Touring was nice, but I think it's time I settled down and got a steady career."
As Tuesday morning rolled around, Big Sean was back at it, flooding the campus with noise in time for 8:00 AM classes. According to sources, Sean's contract with UNL specifies he will be performing the same song every day for the next 10 years.