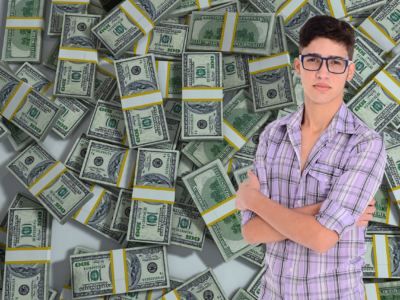 Hype is building around the University of Nebraska-Lincoln once again. Harrison Cotter, a junior marketing major at UNL, announced last Wednesday that he signed a 10-week, $30 million contract to become the group project leader for his sales pitch project.
"I mean, someone's gotta do it, right?" said Cotter, in an exclusive interview with The DailyER. "But I figured I might as well get valued for the work that I'll be doing. I'm happy the University is finally recognizing and compensating me for my unique skill set in sales."
Cotter's duties as group project leader are very daunting. Within the first couple of weeks, Cotter is required to sign up for a time to conduct the group's sales pitch. After that, all he needs to do is make sure the group's report is done on time and is ready for the presentation, even if it includes writing the whole thing the night before. Once the pitch is finished, Cotter's contract will expire and he could either look elsewhere for employment or receive a contract extension into next semester.
Other students leading their group projects were not thrilled at the announcement of Cotter's contract. "How come he gets $30 million and I only get 10 extra credit points?" said sophomore business administration major Kevin Waters. "Is it too late to drop the class?"
University officials announced the historic contract will be financed by the Athletic Department. "WHAT?!" said Nebraska Athletic Director Bill Moos, when asked about Cotter's contract. "We're paying him HOW MUCH?"
Along with his weekly payments from the University, Cotter will also have the opportunity to earn bonuses hinging on the group's performance throughout the project. If his group happens to make it into the "Sales Pitch Playoffs," Cotter is eligible for a $1 million bonus.