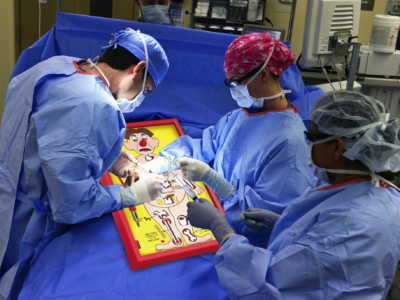 The University of Nebraska Medical Center (UNMC) announced this week that they will be introducing the popular board game Operation into classrooms starting in the 2017-2018 academic year, citing budget constraints.
These additions to the classroom will replace more realistic— and costly— means of education.
"We think this will provide our students with the most realistic experience possible while still reigning in costs," said Dr. Bradley Britigan, dean of the UNMC College of Medicine in a statement to the NU Board of Regents.
Operation, a popular board game amongst suggested ages 4 and up, requires the the removal of various objects from Sam, an overweight male subject, using tweezers that cannot touch the metallic surfaces in his body. Successful removal of objects rewards the player in cash, while errors emit a loud buzzing sound comparable to the tone of a flat-lining EKG.
Objects that must be removed from Sam include a bread basket, a pencil and a miniature horse located in the thigh of the subject.
"It seems pretty cutting edge," said Dr. Jeffrey Harrision, Assistant Dean for Admissions at UNMC's College of Medicine. "This simulated environment addresses obesity issues, best practices in surgery and performance-based compensation in a relatively low-risk environment. We think it will be a game-changer."
Other successful surgeons have used this program in the past.
"They've went on to perform thousands of successful surgeries," Britigan said.
Some students aren't quite convinced yet.
"It seems pretty trivial," said Scott Miller, a Ph.D. candidate at the College of Medicine. "But I figure if Ben Carson did it, so can I."