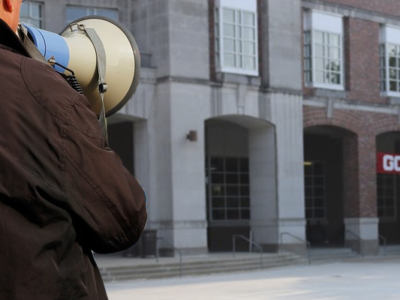 It's hard to believe that less than a week ago I was a skeptic. A denier of the Lord's word. A heathen destined for fiery eternal damnation.
Luckily, at a time when I never expected it, fate hit me.
I was walking to my 11:30 class on Wednesday when I heard her piercing voice waft through the air. I looked over to see a small woman bundled in too many layers for the mild weather, shouting at the top of her lungs from the top step of the Union's entrance.
"WHORE," she called out at a female student passing by her. "THE WAGES OF SIN IS DEATH."
I immediately stopped walking. I had to know what else this courageous woman had to say.
She took from her cart a worn copy of the Old Testament, turned to Genesis and began reading from the story of Sodom and Gomorrah.
"Now the men of Sodom were wicked exceedingly and sinners against the LORD," she started, but immediately had to stop to call another passerby a whore.
At this point, I was completely captivated. I knew the Lord had sent this woman to me and I was ready to be saved.
I called out to her, "Save me, wise one. For I have been wicked and sinful. Deliver me from evil!"
"You want to be saved, fruit?" she yelled back at me.
I told her yes, and she told me exactly what I needed to do to be saved.
First, I would have to repent for three days, while fasting. Then, she said that I'd have to climb to the top of Oldfather Hall at precisely the stroke of midnight and jump off. If I were to live, she said that the Lord had decided to spare me from eternal damnation. If I were to die, then the Lord had decided not to spare me and death would be my punishment.
I lived.
As my thanks to Him, I've decided to dedicate my life to Christ and live as He once did— by heckling whores, queers, vegans and other freethinkers at the University of Nebraska-Lincoln's Union altar.