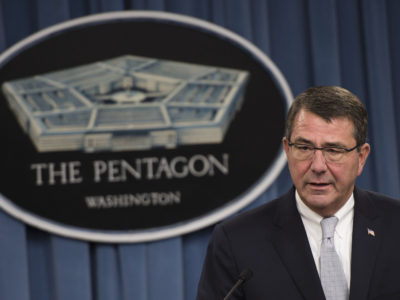 As Christmas season continues in full swing, many people are embracing the Christmas spirit by decorating the house, singing Christmas carols and getting in last-minute shopping. However, behind this jovial spirit lays the hideous and destructive nature that the Christmas media does not want you to know about.
Just announced last Sunday, Secretary of Defense Ash Carter announced that the War on Christmas has been named the bloodiest war since America's involvement in World War I.
The War on Christmas started as a harmless right-wing talking-point about how Jesus is being fazed out of Christmas, but has quickly turned into something far more treacherous.
Although the phrase 'bloodiest war' may look alarming, Carter would like to point out that there have been no casualties in the War on Christmas–just a whole lot of blood.
"More people have died from eating cereal than in the War on Christmas," Carter reiterated using a fancy graph. "However, there been an ungodly amount of blood spilled during this battle—on the streets, at shopping malls, on set during live recording. Blood is everywhere, and as of right now we are still looking for causes."
The search continues for answers as to where this record amount of blood is coming from, but Carter has a few leads.
"Well, definitely keep our eyes peeled on certain hot spots: malls, offices, Fox News headquarters, specifically Bill O'Reilly's studio–that man looks like he has a lot of blood in his body," Carter said. "Our main focus, though, will be various Starbucks to see if any red cups make individuals angry enough to bleed profusely."
Political conspiracy theories often only cause citizens to be annoyed on Facebook and Twitter, but the War on Christmas has reached new levels of terror, making this the bloodiest, yet least dangerous, war of all time. This may not be the most pressing issue, Carter said, but blood on the streets is something he wants to end.
"I'm not a doctor. I do not know much about the human body, but I know losing blood to a media talking point is bad," Carter said. "Right now, it's important to remain calm and remember that the War on Christmas will end when we all put away our decorations and start celebrating the new year."