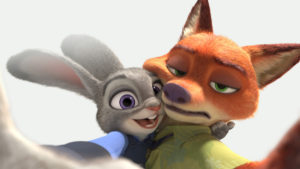 After it was announced that President Donald Trump screened "Finding Dory" – a film about a fish reuniting with her family after years of separation – for his White House staff on the weekend when he signed an executive order banning refugees from seven different countries of Muslim majority, protesters were quick to mock Trump on the films connotations.
After trying to streamline restricts that could prevent Muslim Americans from seeing loved ones outside the country, Trump failed to recognize the deeper meaning of the power of family and what certain individuals will do to see loved ones again.
With that, the White House Press Secretary Sean Spicer announced that the Disney film "Zootopia" – the first of many in a current film series dedicated to giving the president time to relax – will be the next film that Trump will fail to see the subtext of in the wake of his hateful rhetoric and harmful executive orders.
"'Zootopia' is a cute film about a rabbit and a fox solving crimes, that's it, there's nothing else can be interpreted from it," Spicer shouted while addressing the media. "It is certainly not about how racism divides us as a nation and how corrupt politicians can create false stereotypes about nationalities."
While the White House denies any undertones about the film, Zootopia creator and director Byron Howard is confused about why the highest power in the country cannot understand the subtexts of a children film.
"Animated films provide a medium that can teach children how to be respectful to people who are different than you," Howard said. "That's it, it's just a kids' movie. Most people who've seen it got the message, the fact that the most powerful man in the country can't comprehend that is a little alarming to me."
"Zootopia" has been a critical darling and is the favorite for best animated feature at this years' Oscars, but somehow, as confirmed by his Twitter, its intended message did not seem to cross his mind.
"Thanks to Disney for creating a great film about animals pretending to be people. Funny stuff. Class act organization," tweeted the president.
In related news, the White House has announced the full list of the film series, "Citizen Kane," "All the King's Men," "1984," and others that in no way reflect our current political climate.