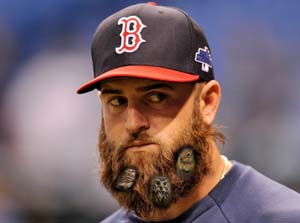 The Boston Red Sox are all about big bats, base-hits, brilliant base running—and new this season—bushy beards. The ball club currently contending the Cardinals in the World Series has adopted a philosophy of forgoing razors and embracing rugged appearances. The fan-adored trend was started jokingly back in Spring Training by a few of the team's veterans, but soon gained legitimacy as the more superstitious Sox began to believe in the dark voodoo power of relatively unkempt facial hair.
However, Boston's beards, which range from 19th century gentleman , to homeless man or Tom Hanks in "Castaway," attracted a different type of attention at the onset of postseason play. In addition to Doritos crumbs and egg roll pieces calling these big league beards home, a number of small forest-dwelling animals have recently gotten cozy under players' chins. Players were naturally shocked when catcher Jarrod Saltalamacchia arrived at the first ALCS batting practice with a beard boasting a family of baby birds, but his fortuitous facial hair hotel would not prove to be the Red Sox's only.
"Soon after Dustin, a bunch more players found their faces infiltrated by critters," remarked Boston skipper John Farrell.
"Ortiz now harbors a few pygmy marmosets, Gomes has a cluster of chipmunks, and Ross seems to be supporting a whole fucking ecosystems' worth of dwarf hedgehogs. I love it…[this is] some real Bambi shit. I'm so damn proud of these guys."Saltalamacchia said.
Professional birdwatcher and reluctant virgin, Marty O'Toole, a Beantown native, suggests that these animals are actually gravitating toward the wild Red Sox faces not out of Disney movie magic, but rather out of necessity. O'Toole highlighted the fact that within the past several years, city development has brought on the destruction of multiple Massachusett forests.
"It makes perfect sense," said O'Toole, "The Sox looked good this year, so when word of their playoff promise spread around nearby forests, many displaced animals felt playoff beards would serve as a safe bet for much needed asylum."
Regardless of cause, all can agree that these animals add an interesting dynamic to the national pastime's postseason.
Second-baseman Dustin Pedroia, whose beard is the acorn storage facility for a young squirrel couple, captured the team sentiment well in a pre-game press conference: "Our stakes are definitely raised. We gotta go out there and win not just for ourselves, but for these animals. I'm out in the field playing, and yeah, sure, sixty acorns in my beard is extremely distracting and ridiculously uncomfortable, but do you think I'm about to let Greg and Susan down? Hell no, they spent all fall foraging these nuts. Do you think Mike Napoli is gonna disappoint that majestic-ass falcon, or Victorino that baby river otter? No. Simply put, we're out here to answer the call of the wild with solid wins, baby!"