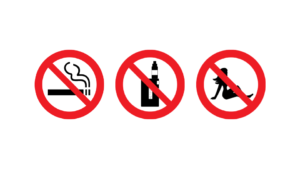 Starting January 1st, 2018, Huskers everywhere will be putting down their cigarettes and vapes and spitting out their chew—for good. UNL will be ringing in the New Year by making campus completely tobacco- and smoke-free.
Since the announcement in August, many students have expressed confusion about what exactly will be banned with the new policy.
Covered head-to-toe in NicoDerm patches and chewing a huge wad of Nicorette gum, Chancellor Ronnie Green looked to clear things up by addressing UNL's students and staff.
"The new policy states that cigarettes, cigars, pipes, electronic cigarettes and smokeless tobacco products will all be banned on campus," Green announced, "but what many people don't know is that smoking hot babes will also be banned starting in 2018."
Green's address only seemed to confuse people more, as many were concerned about what exactly constitutes a "smoking hot babe."
When reached by The DailyER for comment, Green wrote, "A smoking hot babe is any lady with a nice curvy bod, a big pair of [redacted] and/or a pretty face." Green went on to say, "cute, nerdy or weird girls will still be welcome on campus. It's only the hotties we're concerned about."
Many feel like this policy is unnecessarily harsh and discriminatory towards hotties and babes on campus, but Green hopes to dispel these beliefs.
"These smoking hot babes, although easy on the eyes, are a fire hazard. It's not fair to other members of the university to have these hotties walking around everywhere, endangering others."
While the policy remains controversial, most can agree that hotties, babes and nicotine will be missed by all on campus.