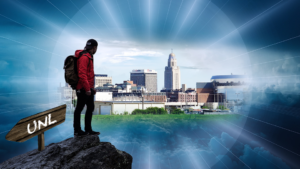 As the second semester of the school year begins, many first-year students returned to campus with a newfound confidence. Freshman geography major Noah Massey spent several days summoning his courage before taking the biggest step of his college career so far: leaving campus.
"Yeah, it was pretty intimidating," reported Massey. "I took some time to reflect on the dangers and benefits, but ultimately, it was worth the risk."
Massey reportedly faced multiple threats on his trek to the O Street Walgreens, including road construction, unfamiliar territory and moderate traffic.
The 19-year-old student nearly turned back for campus after stumbling across a disturbing sight. "The worst part was walking by a guy smoking a cigarette right outside of the Raising Cane's. That's just something you never see on campus."
Despite many potential setbacks, Massey triumphantly secured the item he was searching for after his mile-long journey south.
"I finally found them!" Massey reported once he was safely back on campus with a bag of medicated cough drops in hand. "It was a harrowing journey, but I'm glad I went. I wish there was somewhere to get these on campus, though."
At press time, Massey reportedly could be seen on the south edge of campus, searching Google Maps for the nearest Union Bank location.