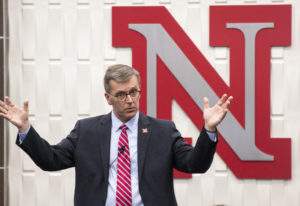 It seems that Ronnie Green has had it up to here.
In a scathing email written to the entire student and faculty population at the University of Nebraska-Lincoln, the chancellor admitted that he didn't know he'd have to send so many emails to everyone.
"With the recent election results and other current events going on, it seems like you ingrates still don't know how to keep an orderly campus," Green wrote. "It seems like I gotta remind you guys every damn week to be decent human beings. Is that too hard for you?"
Green also wrote that if "only you guys knew how to be kind, I wouldn't have to send this crap all the time."
"I mean, my lord, look at yourselves!" Green wrote. "Every week, I have to ask my staff, 'Hey, what kinda crap are the students pulling this week? What do I have to do to get this through their skulls?'"
Green complained in his email about having to address every single social issue that arose from the university.
"It seems like every time this happens, I have to write a freaking 500-word essay on how much of a numbskull some of you guys are," Green wrote. "And I thought you guys had to do a lot of writing. Take a look at what I have to do!"
This isn't the first incident of Green's patience running short. In previous emails to the university population, Green spoke of "you little twerps not getting in line" and "personally delivering this message to each and every one of you to get this message across."
Green warned at the end that if any other issues arrived, instead of sending an email, he would "go full Schwarzenegger on your asses."
"I'm one mean Green," he added at the bottom of the page. "Don't mess with me."