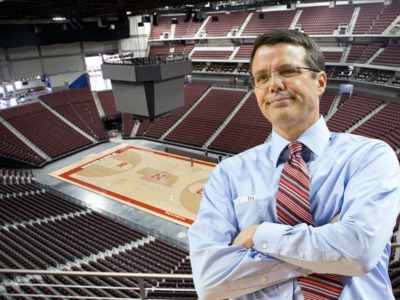 As the Nebraska's football season is in full swing, many Husker fans are nervously excited for the race to the playoffs.
Along with the distractions of college football, the World Series, the NFL and other activities around campus, sports fans can feel overwhelmed by all the options around them.
This oversaturation has seemed to affect Nebraska basketball the most. While the excitement for football and baseball was on the forefront, the Nebraska basketball season started two weeks ago and no seemed to notice.
For the last two weeks, no one—players, fans, opposing teams, and even Tim Miles—did not think to check the schedule for the upcoming college basketball season. Because of this, six games of the season were cancelled.
The mishap was an embarrassment to the basketball program, if anyone cared to notice.
Coach Miles takes full responsibility for the mistake and says that it will never happen again.
"In the heat of a football playoff run and the excitement of a Cubs World Series, it's easy to forget things here and there," Miles said. "I know it's my job to coach the team, but I forgot to set an alert in my iPhone calendar, so I think this is all Steve Jobs' fault."
While the error looks bad on the program, many students seemed to forget about the program or have mistaken when the basketball season begins.
"Oh, we have a basketball team! Right, when do they start?" junior Trey Browings said. "I've always wanted to see them. They play at the rec center, right?"
University of Nebraska President Hank Bounds is disappointed by Miles' negligence and would punish him at some level, but cannot find any motivation to do so.
"Miles showed complete carelessness in his actions and some punishment should be applied," Bounds said. "But even I forgot about the season, so what the hell should I punish him for?"