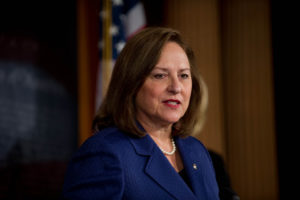 As senators and congressmen go back to their districts, many are holding town halls for concerned citizens to express their frustrations with their elected officials. Many congressmen across the U.S. have faced backlash and boos from their constituents, like last Monday, when Representative Jeff Fortenberry faced questions about the new health care bill and Planned Parenthood, garnering unpleasant reactions from the crowd.
With all this in mind, Senator Deb Fischer had a different idea to avoid angry mobs of citizens. Just a few hours ago, Fischer held a press conference in Holdrege, Mississippi, hundreds of miles away from her home state of Nebraska, to a crowd of very confused Mississippians.
Fischer denied that the town hall in Mississippi was a way to avoid frustrated Nebraskans and calmly explained that the location was just a clerical error.
"When I planned the event a few weeks ago, I accidentally booked an auditorium in Holdrege, Mississippi, instead of the one in Nebraska and I didn't want to pay the cancellation fee," Fischer said, hoping people would buy it. "I mean, with the Holdrege, Nebraska, location, we clearly wanted to avoid the elitist liberals coming from Lincoln and Omaha, but going across state lines is a bit extreme, don't you think?"
Many residents in Nebraska are not buying Fischer's explanation, citing the multiple times she has duped Nebraskans.
"Holding a town hall in a small Nebraskan town is one thing, but hiding behind multiple state borders is just cowardice," said Jane Marrow, a Lincoln resident. "This is just the like DeVos' nomination all over again, she pretends to care about constituents' thoughts until she goes with her own clouded judgment."
"The Fischer town hall was the only thing that has happen in Holdrege, Nebraska, in years. I was excited to yell at my senator," said Samuel Dennis, a Holdrege resident.
One Mississippian who attended by the event praised Fischer for her poise and respectfulness to the crowd, but was confused during the whole event.
"She was very patient and cordial with the crowd, but the 14 people who attended this event had nothing really to be mad about," said Madison Ennis, a Mississippi resident. "If she was with her voter base I bet it'd be a different story. You live in D.C. most of the time and during your break you're too afraid to host an event in one of the smallest cities in Nebraska? Coward."