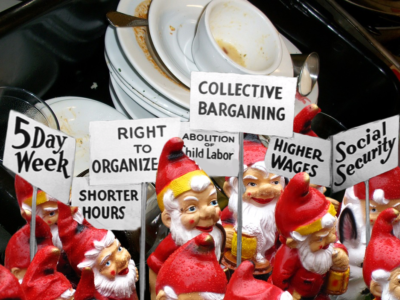 Kitchens across America rely on power, water and loving families in order to function. Loving families of the actively oppressed Smeebler dishwashing dishwasher gnomes, that is.
Stolen from their Smeebler homeland of Dishenraque in the 1850s by inventor Joel Houghton, dishwasher gnomes were forced to live and work inside of wooden boxes and spray dishes with scathing hot water. The only food they were permitted was that off dishes they cleaned.
Thanks to the introduction of indoor plumbing, dishwashers became a practicality within the early 1920s household. More dishwashers, more Smeebler gnomes, more needless bloodshed.
Enslaved by major kitchen appliance companies, the disenfranchised Smeebler gnome kin never saw a glimpse of justice until the late 1980s after the Smeebler Gnome Strike of 1987. By this time, all dishwashing in the continental United States was being done by the gnomes.
People grew complicit. They had forgotten the basic fundamentals of dishwashing: warm water, soap and scrubbing. The U.S. was in turmoil.
By 1988, the U.S. passed the Viva La Dishenraque Smeebler Act, guaranteeing Smeebler gnome freedom and granting the gnomes civil liberties we as Americans were promised by our forefathers many-a-year ago.
Smeebler gnomes were no longer slaves to the kitchen appliance corporations and began living out their lives as respected working-class gnomes within our society. Yet, they could never escape the dishwasher way of life.
As sad as it might sound, the Smeebler gnomes found comfort inside their hot oasis and never fully migrated from their homes in the dishwasher. However, since 1988, technology has advanced exponentially and even more is being required of the gnomes. Thanks to companies like Whirlpool advertising its dishwashers vaporizing entire cakes, people don't even bother rinsing dishes before handing them off to the gnomes anymore.
With such an increase in workload per wash, today's generation of Smeebler gnomes is refusing to be walked over again. As of last week, the Smeebler gnomes have officially unionized, seeking better living conditions within the confines of dishwashers, more time allotted per wash cycle and substantially higher wages.