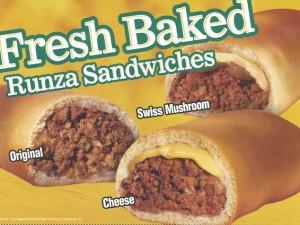 While the popular restaurant chain Runza has captured the hearts and minds of customers over the years, few know where the best spots serving gourmet cabbage and beef sandwiches are. Here are the best lesser-known place to get a runza in Lincoln.
1. Runza Restaurant: Union Square

The DailyER must inform its readers that it is legally required by the University of Nebraska-Lincoln to put the Union Runza at the top of this list. Good location and atmosphere do a great job of putting the meat and cabbage into the bread. The also serve Pepsi. This store would have made the top spot on this list without any hesitation if not for one employee who mocked my sweatshirt one time.
2. Runza Restaurant: 1501 N 56 St.

If you're looking for an off-campus destination to take your sweet babe, try this taut-looking venue. Their piping hot runzas are perfect to put in and near your mouth. It may look identical to other Runza stores, but if you squint a little, it doesn't. They might have a play-pit too, if you're into that.
3. Runza Restaurant: 48th & O streets

I had the pleasure of visiting this underground dive last Monday, and boy was it an experience. Instead of the traditional way of ordering your meal, the cooks just give you the ingredients and tell you to make it yourself. Really experimental stuff.
4. My auntie Ruth's house: 1418 Saddlecrick Road

This chic little eatery boasts several distinct traits that really make the place stand out. Patrons must call ahead of time or the owner will think you are invading her property. Wait time averages about eight hours, but the wait is well worth it. This was the only store where the server promised me three auntie kisses when I ordered.
5. Runza 937 S 13th St.

Pro: They have runzas if you want one, they will give it to you for your money.
Con: If you request that they put a fork in your sandwich, they probably will not do it because it is against the health code.