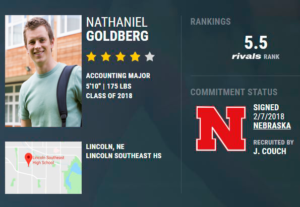 Hype around the University of Nebraska-Lincoln seems to be growing by the day. With a recent national volleyball championship title, a promising new football coaching staff and the men's and women's basketball teams outperforming their expectations, it is safe to say that the time is right to be a Husker fan. But none of these accomplishments can quite top the announcement from Nebraska on National Signing Day 2018. Nathaniel Goldberg, a four-star standout accounting major from Lincoln, NE, has announced his commitment to the University of Nebraska-Lincoln.
Goldberg, currently a senior at Lincoln Southeast High School, has wowed admissions staff since his freshman year. "He's always been fast at balancing the books, auditing financial reports and preparing balance sheets," admissions staff member John Couch said. "Goldberg is the kind of guy we want representing the University of Nebraska. I'm really happy we were able to get his commitment."
"I've always had a passion for numbers," Goldberg said in his National Signing Day interview. "I am so blessed for the opportunity to study accounting at Nebraska. It's crazy to see how far I've come since my freshman year of high school. None of this would have been possible without my family and, most of all, God. I give all glory to God as He guides me on this journey."
Goldberg's academic advisor said he will play a key role inside and outside of the classroom. "I imagine he's going to lead several important projects in his four years at UNL," said Jacob Jones. "He truly is a special talent and I'm honored to be able to work with such a bright individual in Goldberg. I'm excited to see the future of our program and, hopefully, we can improve every day he's here."
Scouting reports say Goldberg's talents could have the potential to push Nebraska back into the top 25 for accounting programs in the nation. Along with this, early predictions have Goldberg going to one of the four major accounting firms in the United States (Deloitte, PwC, E&Y, KPMG) upon Goldberg declaring for the National Accounting League Draft.