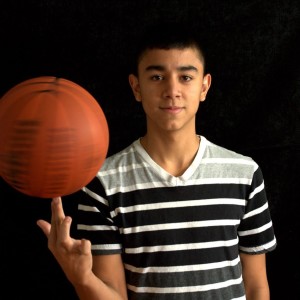 The men's basketball team's win over Southeastern Louisiana on November 22 was no big deal to most people watching, but for freshman Kyle Bueller it was his moment to shine. Bueller made his college debut when Coach Tim Miles rested his starters with the Huskers up by 42 points and 5:38 remaining in the game.
Bueller, the 6'4" point guard from Chicago, was in uniform for the first time this season after resting a sprained ankle from offseason conditioning. He was cleared to play the night before.
Ten seconds after entering the game, Bueller had the ball and shot a jumper but missed. He immediately rebounded to make up for his mistake as his crush was watching him from the student section.
Bueller passed the ball to a teammate who went to shoot for three, but it was also a miss. He wasn't credited for an assist, but he rebounded again.
He took the ball, planted his feet and jumped as he launched the ball towards the basket.
Swish!
The fans that were left in the stands sat and applauded as Bueller contributed meaningless points to a game already won by the Huskers early on in the second half.
Bueller ended up being was responsible for 1/46 of the Huskers' final score. His name and his contribution to the contest will now live forever in the record books.
"Yeah, it felt like I was playing 2K, but in real life, you know," Bueller said in his post-game interview. "When I made that shot in the second half, my knees were weak and my palms were sweaty. You can't train for moments like that."
Bueller ran back onto the court and stood where he made his shot, basking in the glory of a not so distant past. He stood there until the janitor stopped by to tell him that the arena was closing.
After the win, Bueller went to a local Runza where it was reported that he sprained his ankle while attempting to recreate his now-famous moment.
"I'm really proud of his efforts," Miles said about the incident. "He works his butt off in practice, but the kid's got a big ego. He makes a jumper when the game's essentially over and he goes around acting as if he's Steph Curry."
Bueller has been cleared to play again and is looking forward to following up his career-game in Saturday's match against Abilene Christian. His goal is to make a basket from beyond the three-point arch.