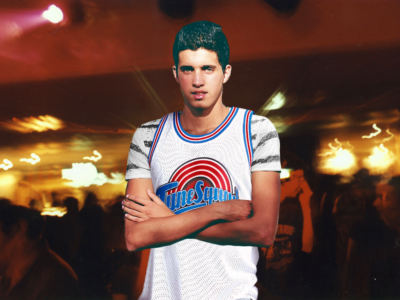 Freshman economics major Tyler Adams was pretty excited when he heard there was going to be a jersey party on Friday at his friend Michael's house. But after thinking about his potential jersey options, his enthusiasm quickly waned.
"I just couldn't think of a jersey that would make me stand out," Adams said. "I knew that there would be plenty of people wearing #8 Kobe jerseys, some John Stockton jerseys, and a healthy dose of Orlando Magic pinstripe-era jerseys. It just didn't feel like there was a way for me to make a mark on the party."
Then it hit him: he could make a tribute to a 90's childhood favorite.
"I realized that if I pulled out my 'Tune Squad' jersey I would be able to make a statement as soon as I walked in," the naive freshman explained. "I sort of had a visual in my mind of walking into Michael's house and being complimented for the next three and a half hours as I stood there allowing people to take pictures with me. Maybe we would even put a little post-it on the keg that read 'Michael's Secret Stuff.'"
When the party finally rolled around, Adams was horrified to see at least three other people wearing similar Tune Squad jerseys.
"Not a single person even commented on my nostalgic outfit," Adams lamented. "I mean, sure, I wasn't even alive yet when the movie came out, but I really felt like this was a pretty clever choice to go with."
Moving forward, the freshman has some new ideas to help him reel in a few more compliments the next time he attends a jersey party.
"I think the next time one of these things comes up, I'll break out a Jimmy Chitwood jersey, or maybe a Matt Saracen 'Friday Night Lights' jersey," Adams said. "One of those should blow everyone away."