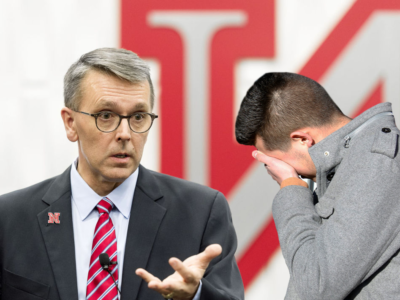 Sophomore John Stallworth is just like any other student at the University of Nebraska-Lincoln: a mathematics major with interests in video games and Husker football.
One would think he's living the typical college experience. However, he is, in fact, the victim of the horrible dictatorial control of Chancellor Ronnie Green, the freshly ordained chancellor who has done nothing but drive his policies down the throat of his university.
Stallworth, like any student, wants to graduate one day, but Green has given him zero opportunity to do so, reiterating that Stallworth will never receive his diploma until he's earned the required number of credits in order to graduate.
Stallworth, who has stood tall in the face of adversity, remains hopeful that people will notice the stranglehold Green has put him through, but accepts the predicament he is in.
"I mean, it would be fun to graduate a little early, I guess," Stallworth said, trying to hold back tears. "But, I'm also a sophomore. I still have a lot to learn in order to be an effective mathematician."
Green has defended his stance by citing university values. He said UNL students must earn a certain number of credit hours in order to graduate. But in his daily press conference, Green seemed to be stretching the truth.
"All students that attend this university must earn 120 credit hours before they receive their diploma," Green said, clearly lying. "The average incoming sophomore has around 30 credit hours; well short of receiving a degree or being an effective employee in the workforce."
While Green's autocratic ideas have hindered Stallworth's dream of getting a degree for now, the scariest part is how this policy will impact future generations.
The Chancellor does not seem like he will change his mind anytime soon.
"A four-year, 120 credit hour program is the standard at Nebraska and every college since the 1800s," Green said. "Why is this a controversy? I don't think you are getting this."