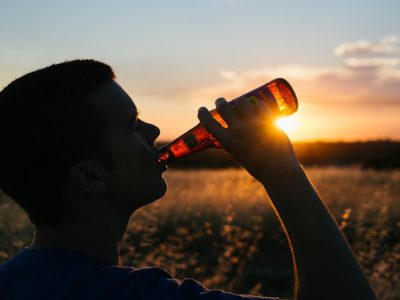 As students get ready for the new school year, the Husker football team is also preparing to provide the greatest source of joy for every fan this season. For the past few months, Coach Mike Riley and the players have been practicing for the 2017 schedule, with nonstop two-a-days, lifting and conditioning for the majority of the summer.
The same dedication can be said for devout Husker fans who have waited patiently for these special Saturdays. One fan in particular, Troy Drott, 28, has taken his devotion to Husker game days to a whole new level. In the weeks before the opening game against Arkansas State, Drott has started a grueling two(beer)-a-day training regimen to be ready for opening day.
Drott explains that his strict regimen will help him be prepared for a chaotic first game.
"I figure, if I start drinking two beers, twice a day, a month before the season, I'll prepare my stomach for the 15 beers I'll have before the game even starts," Drott said. "I don't want to look like some noob that passed out after their eighth can of Bud Light."
Many of Drott's family members and friends are concerned that his extreme training program has put a strain on his body, but Drott is not worried about the consequences.
"I understand the consequences, but the passion for this game is something that makes it worth it," Drott explained. "To drink two beers in preparation for unsustainable binge drinking may not be the best thing for your body, but neither is football."
By the end of the year, Drott is hoping to reach a point where his consumption of beer makes him forget about the season entirely, but for right now he just wants to enjoy the process.