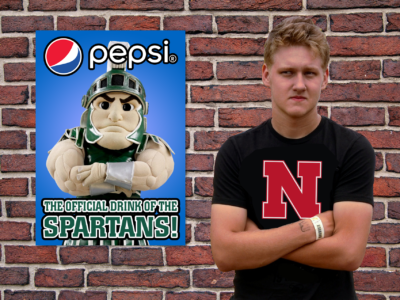 Now that college football season is underway, fans everywhere are showing their allegiance to their favorite teams. However, some troubling new information has cast doubt on the loyalty of a well-known brand.
The controversy began when die-hard Nebraska Cornhuskers fan Carson Burns was visiting his brother at Michigan State University and saw an advertisement on campus.
"The sign said, 'Grab a Pepsi, support the Spartans,'" Burns reported, his voice shaking. "I was stunned. I thought Pepsi and I had each other's backs, but it was all a lie."
"I remember chugging an ice cold Pepsi at Memorial Stadium when we upset the Spartans back in 2015," he continued. "To think that they were supporting the other team the whole time… it's a tough pill to swallow."
Burns shared a picture of the ad on social media, and it quickly went viral on fan forums, sending shockwaves across the Husker nation. Similar photos soon surfaced online depicting Pepsi allied with even more schools, including Maryland, Texas A&M and Florida.
When contacted by The DailyER, spokesperson Julie Etheridge said Pepsi was unaware of the advertisements and would investigate the situation immediately.
"Here at Pepsi, our number one priority is loyalty to the Corn-chuckers — I mean, the Cornhuskers," Etheridge said. "Go Big Reds."
The University of Nebraska-Lincoln, whose 10-year contract with PepsiCo is worth an estimated $18 million, had no comment.
"It's times like these that test the resolve of every Husker fan," Burns said. "Sometimes, you learn that your friends are actually your enemies. But we have to stay strong."
"At least I know Adidas would never betray us like that," he added, clutching his authentic Husker Game Day Adidas jersey to his chest.