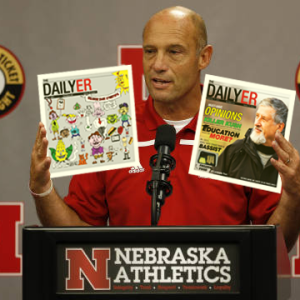 After a disappointing start to the season, University of Nebraska-Lincoln football coach Mike Riley made a stunning announcement Monday about the cause of the team's recent struggles.
"The truth is, we just can't stop reading all those hilarious articles in The DailyER," Riley said, referring to UNL's satirical newspaper. "How can we be expected to focus on football when The DailyER's talented writing staff is pumping out side-splitting satire on a bi-weekly basis?"
"Yeah, The DailyER has been a real problem for us," admitted Huskers cornerback Jerome Wilson. "In the last game, I was trying to cover my receiver, then I remembered that funny Pope Francis article and I fell down laughing. Touchdown, Wisconsin."
While many were surprised by the revelation, fans have been speculating about The DailyER's impact on the team for weeks, especially after running back Trent McCoy's comments following the Huskers' loss to Miami.
"You guys gotta hear this," McCoy said with a smile, before reading the entire "Five Restaurants That Have Incredible Runzas" article to the media.
"The numbers don't lie," said ESPN college football analyst Kirk Herbstreit. "Nebraska is 0-3 on the Saturday after a new DailyER is published, and 2-1 when it's not. Clearly, there's a correlation."
Fans across the state have called for Riley to take a stand against the paper, but players report he's had little success in doing so.
"Coach Riley tried to ban DailyERs from the locker room, but then we found out he was hiding the latest issue in his playbook and reading it on the sidelines," Wilson said. "We all want to win games, but The DailyER is just too funny."
When asked which articles were his favorite, Riley said, "I like the ones about me. Did you see when they put me on the cover? Hilarious."
With The DailyER wreaking havoc on the Huskers' bowl game chances, many have called for the paper to cease printing for the remainder of the season. But Editor-in-Chief Colton Lindberg says they have no plans to do so.
"I love the Huskers as much as anyone, but all these losses are Coach Riley's responsibility, not ours," Lindberg said. "Besides, basketball season is just around the corner, and I hear Tim Miles is a big fan."