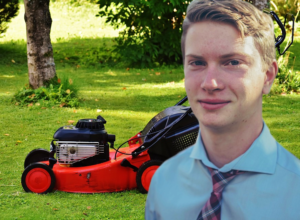 With a new school year beginning and students adjusting to new routines, many are overwhelmed by all the changes. However, incoming sophomore advertising major Jack Ranger is confident that this semester's challenges should be a breeze because of an important work opportunity he was given over the summer.
While most first-year college students rarely get summer internships, Ranger was one of the lucky ones. He snagged an internship mowing his neighbor's lawn.
"It was an excellent chance to branch out into the world and make new connections that I never thought I'd make before," Ranger said. "I didn't know my neighbors real well, so this was a great chance to network."
While Mike Styles, Ranger's neighbor, is grateful that this college student would want to mow his lawn, he was perplexed as to why he was so proud of doing it.
"I'm thankful he's so eager to do it, but I don't understand why he keeps calling it an internship; it's just mowing," Styles said. "I've been mowing lawns since I was in middle school and I've never considered it anymore than a chore."
"He won't even let me pay him, because he believes this internship is for school credit only," Styles added.
While some may doubt the credibility of Ranger's lawn mowing internship program, he will not let that skepticism derail his confidence for sophomore year.
"I'm proud of what I learned during my work-study program," Ranger said. "Sure, it did not pertain to my major or any desirable skills, but this opportunity prepared me for sophomore year, the hardest of them all."