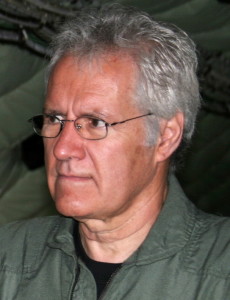 Controversy struck longtime "Jeopardy" host Alex Trebek this week as reports surfaced that he has been confirming the correct answers with notes and cue cards instead of simply knowing every answer.
"Jeopardy," a trivia-based game show, asks contestants to respond to Trebek's hints with the correct subject being hinted at. When a question remains unanswered, Trebek will respond with the correct answer before moving on to a new topic, often appearing very confident in his answer.
"The credibility is completely lost," said Steve Mosko of Sony Pictures Television, which is responsible for the production of "Jeopardy."
"For decades, we relied on Trebek's perceived intelligence to deliver a smart, fun and family-friendly television program to living rooms across the United States. This fraud will never be on another television as long as I have a say," Mosko said.
Former contestants, mostly losing ones, also weighed in on the news.
"I think it's a load of crap, if I'm honest," said Bruce Williams, known for having one of the worst final scores in "Jeopardy" history. "I'm supposed to know the answers to these completely random questions, and Trebek is over there with a smug-ass grin acting like he's some Einstein of trivia. Anyone could do that job, you prick."
Sony Pictures has cancelled all syndication until they find a real trivia mastermind, which has put the show's future with Trebek in jeopardy.