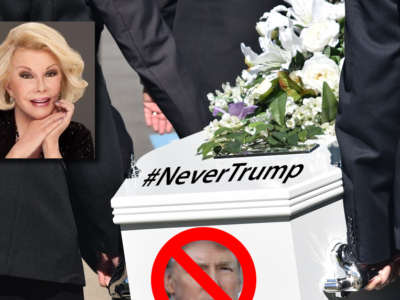 Joan Rivers, beloved American comedienne known for her caustic wit and pointed humor, died on September 4th, 2014, at the age of 81. Her passing sent shockwaves through the Hollywood community, and the lack of Rivers' presence has been felt for the past three years.
Rivers, during her lifetime, kept fans guessing about her political beliefs, convincing both liberals and conservatives to believe they were her ally. Yet sources reported Tuesday that Rivers' family made a daring political statement by holding a second funeral for the late entertainer, and this time, the theme of the funeral was 'Never Trump.'
The ceremony, led by Joan Rivers' daughter, actress Melissa Rivers, was meant to display the family's firm stance against the President of the United States.
"My mother stayed fairly apolitical for much of her career," Melissa Rivers told reporters late Thursday evening. "But I am sure she would not support President Trump, and we don't want her fans to believe that she ever would. That is why we are holding a second, anti-Trump-themed funeral."
The requiem, which featured various photos of the president with red crosses drawn over his face and extensive power points outlining the flaws in his proposed policies, lasted just over three hours and was open to family, friends and limited press.
"I was impressed by the specificity of the second funeral's opposition to Donald Trump," said Whoopi Goldberg, a close friend of the family. "I had no idea what Trump's tax plan will do to the amount of taxable income for various classes of wealth. What a way to honor Joan."
Melissa Rivers, who spoke to reporters at the close of the second memorial service for her mother, also expressed her appreciation for the success of the ceremony.
"I can't imagine a better way to publicly celebrate the life of my mother," said Melissa. "I hope this second service served as a reminder to my mother's fans that, as always, Love Trumps Hate."